Swormstedt Award Winners
The David Swormstedt, Sr. Memorial Award recognizes the best published article or technical paper written for any aspect of the screen printing industry. Any SGIA International member can nominate articles for the Swormstedt award.
Fiscal year August 1 to July 31 Awarded in October at the show

1978 Hans Gerd Scheer
1979 Peter Herman

1980 Hans Gerd Scheer
1981 Michel Caza
1982 Ron Mason
1983 Elmar Messerchmitt
1984 Sylve Ericcson
1985 Tamas Frecska SPM Feb "Screen Fabrics: A Question of the Right Parameters"
1986 Joe Clarke Control Without Confusion [Feb87p.74] series in Screen Printing Magazine
1987 Hans-Gerd Scheer Screen Printing Criteria in HalftonePrinting SPAI/SGIA C15/1400 [Dec87p.24]
1988 Mike Young TGB2010- Proper Techniques & Process Control for Printing Overlay Front Panels originally Q12 Published March 1988
1989 Joe Clarke - "Woven Nylon Imprinting" series Aug 88 to July89 in Screen Printing Magazine

1990 Tamas Frecska SPM April 1990 Taming Microregistration
1991 Andre Peyskens 1992 Mark Coudray Oct 91 Understanding Halftone Moire SPM [f93 p115]
1993 Tamas Frecska Screen Printing in the Year 2000 SPM Sep'92 [F94 p107]
1994 Mark Coudray Stochastic Halftones June 1994 SPM
1995 Tamas Frescka SPM Jan "Becoming a Super Color Matcher"
1996 Tamas Frescka SPM May "Floodbar Fundamentals" p.56 1997 Colin Cheer
1998 Shannon Boothe/Doug Brendle "The Truth About High Tension Screens" Originally published in The Press Magazine March 1998 p.30 - Reprinted in the TGB as article 1110
1999 Hans Gerd-Scheer "Quality Control for Halftone Screen Printing" April 1999 SPM




2000 Joe Clarke "Lenticular Imaging," September/October 1999 Screen Graphics
2001 The first recipients are Todd Cleery of DuPont Teijin Films (Hopewell, VA), and Deepthi Sid of the RIT Research Corp. (Rochester, NY) for "Producing the Best Backlit Signs" published in the First Quarter 2001 SGIA Journal.
The second recipient is Prof. Steven Abbott of Autotype International Wantage, England) for "Itís the PITS: Pile Height in Process-Color UV Printing" published in the December 2000 issue of Screen Printing magazine.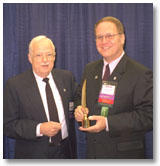 2002 Joe Clarke "Balancing Act" series in Screen & Display Graphics Magazine Jan/March/May/July 2002